Travel Package Ideas
All itineraries here are suggestions to give you an idea of what New Zealand has to offer. They are fully customizable and prices will vary depending on your level of comfort. Our travel advisors are flexible and will design your trip to suit your individual budget and desires.
All prices are in USD. Per couple, and includes accommodation, rental cars, airport transfers, and some activities.
Top Of The South
8+ Days
Highlights:
Art Galleries
Punakaiki
Abel Tasman
Whale Watching
Marlborough Wineries
Includes:
Accommodation
Rental Car
Airport Transfers
Selected Activities
This itinerary showcases how diverse New Zealand's landscape is. Travel across vast plains, through mountain passes, along golden beaches, amongst glaciers, beside winding rivers . . . With ample opportunity to taste some of New Zealand's best Wine, seafood, and fresh fruit along the way. Each day is different, so have your camera at the ready with a full battery and empty memory card. This itinerary showcases how diverse New Zealand's landscape is. Travel across vast plains, through mountain passes, along golden beaches, amongst glaciers, beside winding rivers . . . With ample opportunity to taste some of New Zealand's best Wine, seafood, and fresh fruit along the way. Each day is different, so have your camera at the ready with a full battery and empty memory card.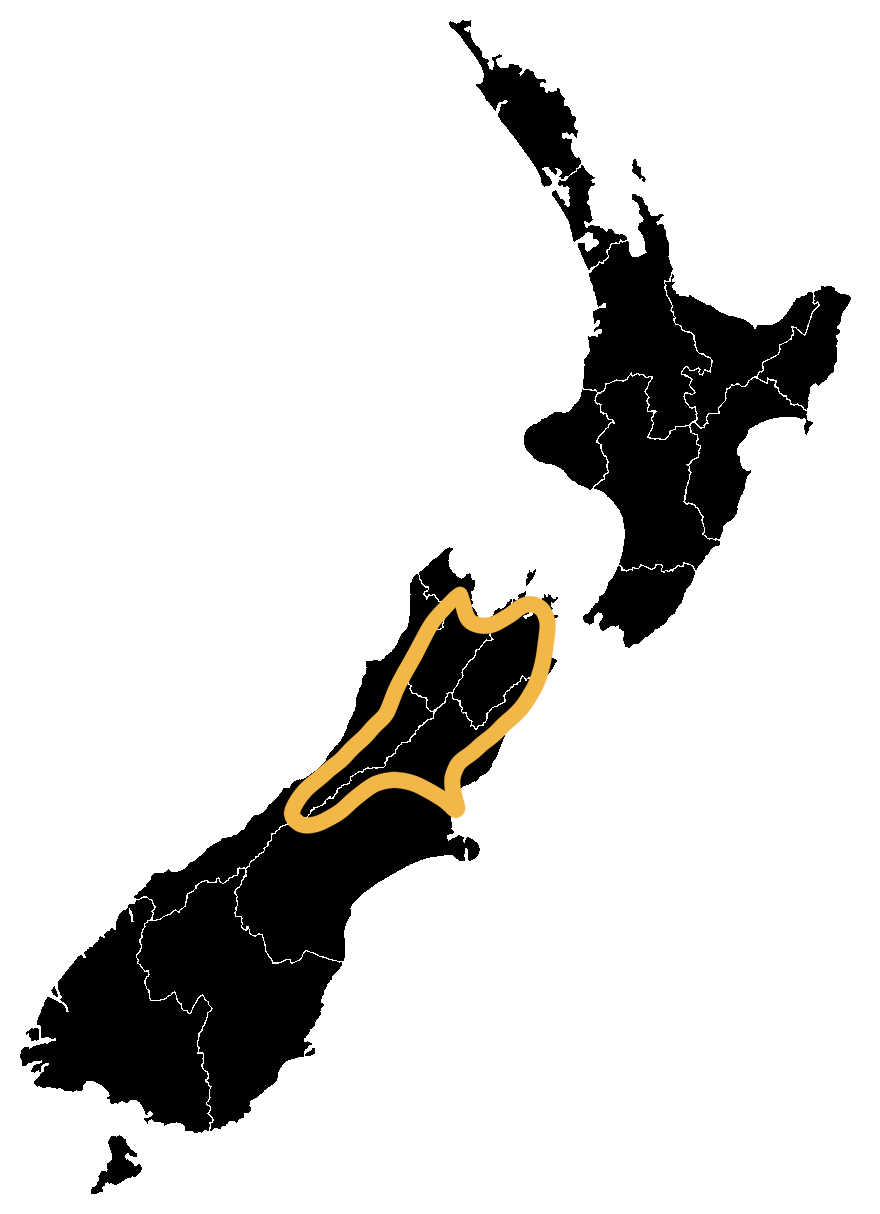 Start:
Christchurch
Known in New Zealand as the 'Garden City', Christchurch is our second-largest city in the heart of the Canterbury Region. Wander the tree-lined streets, exploring Culture, Art, and Innovation along the way. A thriving city with a unique energy that provides something for every visitor. Boasting an impressive list of outdoor activities right on its doorstep. Go hiking around the trails of Banks Peninsula for a breathtaking view west over the plains towards New Zealand's South Alps. Get the blood pumping at Christchurch Adventure park with ziplining and mountain biking for all ages. Take an evening Gondola along the Avon river, then browse the local art galleries before sampling fine cuisine in the revitalized city centre. We recommend the world-famous Canterbury lamb. A great day trip or one-night getaway is a visit to nearby Akaroa, this cute seaside historical French Settlement
International Antarctic Centre
Botanic Gardens
Punting on the Avon
Street Art
Port Hills Hiking
Drive:
Christchurch to Kaikoura
Take the Northern Motorway out of Christchurch towards Kaikoura. There are ample refreshment stops at Woodend, Waikuku and Amberley or continue towards the Waipara Valley and detour for some excellent wine tastings at any of the many wineries in the region. Continue to Cheviot, the region's largest town, and if you have time, detour down to Gore Bay to stretch your legs and marvel at the stunning Cathedral Cliffs. Back on SH 1, the road traverse's hilly rural landscapes before hugging the coastline. Enjoy the spectacular sea views as you drive towards Kaikoura. Once there, walk around the small town to enjoy the street art. Dine on the freshest of seafood, get fit on the cycle and walking trails or prepare to be captivated on one of the many whale-watching, dolphin and seal experiences on offer.
Stay:
Kaikoura
Kaikoura is a haven of wildlife and seaside adventures. This charming coastal town provides the opportunity to get up close and personal with the local whales, dolphins and seals. Take a scenic helicopter tour to see these magnificent animals from above, or jump in the water for an incredible encounter with Dusky Dolphins. Hike the shores to spot an abundance of birdlife, including albatross, molly-mawks and petrels.
Whale Watching
Dolphin Swimming
Peninsula Walkway
Scenic Helicopter Flights
Seal Colony Visits
Drive
Kaikoura to Blenheim
SH 1 offers endless views of the Pacific Ocean as it hugs the coastline from Kaikoura to the tiny town of Ward. As the road turns inland, the Lake Grassmere saltworks offer an interesting stopping point. The lake turns deep pink in summer, in contrast with the white, salty mounds surrounding it. Further on is Seddon, named for an early, influential Prime Minister, and the historic, double-decker Awatere River Bridge, one of only three such bridges in NZ. Blenheim is in the heart of Marlborough wine country and offers vineyard tours, artisan chocolates, fresh seafood restaurants, and more. It's well-worth visiting the Omaka Aviation Heritage Center, which houses Sir Peter Jackson's WW1 airplane and artefacts collection. Blenheim is also the gateway to the four-day Queen Charlotte walking track. And just down the road lies the coastal town of Picton where the Cook Strait ferries dock. There you can explore the remote Marlborough Sounds on one of several picturesque boat tours.
Stay:
Blenheim
For those who crave wine and food culture, this sunny town is the perfect spot to satisfy your hunger. Encompassed by vineyards that stretch towards the encircling hills, here is an excellent opportunity to sample the world-renowned Marlborough wines. There are plenty of Boutique Hotels and B&Bs amongst beautiful gardens that will provide an authentic feel to your stay here. Visit New Zealand's original farmers market to stock up on fresh produce from the local growers. Witness history brought to life at the Omaka Aviation Heritage Centre, view a rare collection of aircraft and memorabilia.
Wineries
Cycling
Hiking
Scenic Views
Drive:
Blenheim to Nelson
Climb through the hills, taking advantage of the viewpoints along the way. The small town of Havelock will give you your first taste of the Marlborough Sounds; take a small cruise around the Pelorus Sounds and be sure to taste the local Mussels when you return. Your destination is the creative town of Nelson, gateway to three national parks. Kahurangi, Nelson Lakes and Abel Tasman.
Stay:
Nelson
This vibrant beach town boasts an exceptional Art and Crafts scene, a small city where the ordinary is extraordinary. Surrounded by beaches, rivers and lakes, Nelson is a place that has it all. Visit artists studios and admire the creativeness of these friendly kiwis; find that perfect souvenir piece for your wall or mantelpiece. With three National Parks within your grasp, you can choose from the abundance of outdoor activities on offer. Popular activities include exploring the clear waters of Abel Tasman National Park via kayak or hiking through untouched forests leading to golden sandy beaches.
Abel Tasman NP
Breweries
Beaches
Kayaking
Specatcular Hiking
Drive:
Nelson to Hokitika
This inland drive weaves its way through incredibly picturesque terrain, gaze up steep ravines and through dense bush and rainforest that will compact further as you get closer to the wild West Coast. The highlight of this drive is the Punakaiki Pancake Rocks within the Paparoa National park. Take a walk around these unusual coastal rock formations, feeling the power of the ocean bursting through blowholes as you stroll.
Stay:
Hokitika
Sitting on the wild shores of the Tasman Sea is Hokitika, a cool little seaside town in the heart of the West Coast. Something genuinely novel about Hokitika is being able to walk around and observe Artists at work. Gaze in awe as woodturners, potters, jewelers create their unique products. Call into the Hokitika Glass Blowing studio to view sculptors form colorful bowls, birds, fruit and anything else imaginable out of molten glass. A short drive out of town is the Hokitika Gorge with its bright blue glacial water. Be sure to call into the Tree Tops Walk to give you a birds view of the rainforest as you stroll in and above the forest canopy. Evening activities often include a bonfire on the beach or a visit to the Glow Worm caves.
Hokitika Gorge
Glass Blowing
Local Art Galleries
Jewellery
Treetop Walk
Drive:
Hokitika to Christchurch
A scenic journey from Hokitika to Christchurch, traversing from the wild west coast to the vibrant city. This 3-hour and 18-minute drive will captivate you with its diverse landscapes and numerous opportunities for exploration. As you leave Hokitika, you'll witness the beauty of the untamed Tasman Sea and head east towards the majestic Southern Alps. Prepare to be amazed as you ascend through the rainforest of the Wild West Coast, marveling at the rapid change in flora and fauna. Pass through charming towns like Arthurs Pass, nestled within its own National Park and surrounded by towering peaks and cliffs. Take a break in this picturesque setting and enjoy a cup of coffee or a snack before embarking on one of the local hikes, immersing yourself in the natural beauty of the area. Continue your journey through the Southern Alps, descending from the alpine heights into rolling hills and patchwork fields. Capture the unique rock formations at Castle Hill, offering an opportunity to explore this fascinating landscape. As you approach Christchurch, soak in the contrasting beauty of the Canterbury plains, with its vast open spaces and picturesque scenery. Take your time to appreciate the journey, making stops along the way for photos and short hikes that present themselves. Arriving in Christchurch, you'll be greeted by the vibrant energy of the city, with its bustling streets, cultural attractions, and a multitude of dining options.
The
Simple

way to

book

new zealand