Travel Package Ideas
All itineraries here are suggestions to give you an idea of what New Zealand has to offer. They are fully customizable and prices will vary depending on your level of comfort. Our travel advisors are flexible and will design your trip to suit your individual budget and desires.
All prices are in USD. Per couple, and includes accommodation, rental cars, airport transfers, and some activities.
Northern Explorer
9+ Days
Highlights:
Maori Culture
Geothermals
Art Deco
Adventure Sports
Lakes
Includes:
Accommodation
Rental Car
Airport Transfers
Selected Activities
Embark on an unforgettable adventure through the North Island of New Zealand, starting in the vibrant city of Auckland, known for its stunning harbor and cosmopolitan atmosphere. From there, venture to Tauranga, a coastal gem offering beautiful beaches, hiking opportunities, and a charming town center. Next, immerse yourself in the geothermal wonders and rich Maori traditions of Rotorua, where you can witness powerful geysers, indulge in a traditional Hangi feast, and experience thrilling adventure activities. Finally, discover the serene beauty of Lake Taupo, the largest freshwater lake in Australasia, where you can enjoy boat cruises, skydiving, and relaxation in natural hot pools. Throughout this itinerary, you'll have the chance to witness breathtaking landscapes, learn about Maori culture, and partake in exhilarating adventures. Whether you're seeking urban delights, coastal beauty, geothermal marvels, or peaceful lakeside serenity, this North Island journey promises to leave you with cherished memories and a deep appreciation for the natural and cultural wonders of New Zealand.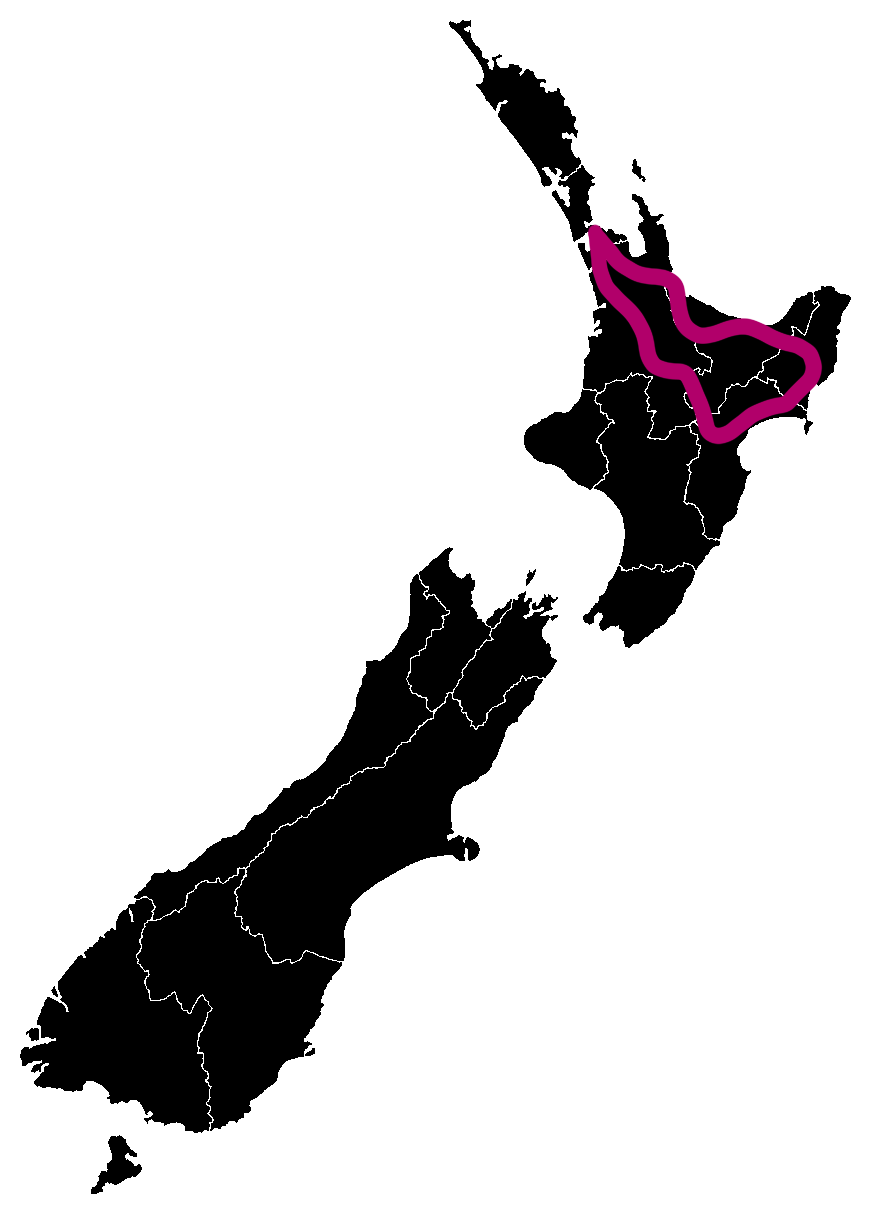 Start:
Auckland
Experience the wonders of New Zealand's largest city, Auckland, famously known as the "City of Sails." Nestled between two iconic harbors, this vibrant metropolis offers an array of captivating activities for every kind of traveler. Embark on island adventures to Waiheke, renowned for its laid-back charm, Rangitoto, a majestic volcanic island, or the Tiritiri Matangi sanctuary, a haven for native wildlife. For a closer encounter with marine life, visit Kelly Tarlton's Aquarium or the Auckland Zoo.Delve into the world of art and culture at the Toi o Tamaki art gallery or explore the city's diverse range of museums. Thrill-seekers can bungy jump off the harbor bridge or the towering 328-meter Sky Tower, which also boasts a captivating glass viewing platform. Dive into the interactive All Black Experience to learn about New Zealand's legendary rugby team.Stroll along the picturesque Viaduct Basin waterfront, adorned with trendy bars and restaurants, perfect for a relaxing evening. For family fun, head to Rainbow's End for exhilarating rides or venture into the scenic Waitakere Ranges. If you prefer a tranquil escape, take a leisurely stroll through the Botanic Gardens, surrounded by natural beauty.No matter your interests or age, Auckland promises a diverse range of experiences that will leave you captivated and inspired.
Viaduct Harbor
Waiheke Island
Sky Tower
Beaches
Adventure Sports
Drive:
Auckland to Tauranga
Embark on a picturesque journey as you leave the Southern Motorway and venture towards the stunning Coromandel region. The road winds through charming small towns, captivating countryside, and breathtaking seaside views, offering a feast for the eyes. Your first stop is Paeroa, home to the famous giant L&P bottle and a haven for antique and collectible enthusiasts with its abundance of shops. Don't miss the opportunity to explore the Karangahake Gorge historic walkway, which takes you along an old railway line, complete with mysterious tunnels and a fascinating gold mining history. Continue your adventure to Waihi, where you can immerse yourself in the allure of a bygone era by riding the vintage train or visiting the Waihi Gold Discovery Center for an interactive gold mining experience. As you journey further, follow SH2 through the town of Katikati, renowned for its captivating murals adorning the facades of numerous commercial buildings, adding a vibrant artistic touch to the area. Finally, make your way to Tauranga, the bustling hub on the busy highway, where the journey through stunning landscapes comes to a close.
Stay:
Tauranga
Discover the trendy coastal delights of Tauranga and Mt Maunganui, nestled in the picturesque Bay of Plenty. This vibrant destination offers an abundance of sun, surf, and sand, ensuring a delightful experience for the entire family. Begin your adventure with a climb up the iconic Mount Maunganui, which rewards you with panoramic views of the region. Afterward, indulge in the ultimate relaxation by plunging into the saltwater hot pools or simply lazing on the beautiful beach just steps away. For adrenaline junkies, the Waimarino Adventure Park and Adrenalin Forest's high-wire obstacle course provide thrilling experiences. Chase the beauty of waterfalls as you explore both McLaren's and Kaiate Falls, highly recommended by the locals. Immerse yourself in the rich history of the region at the Historic Village and admire captivating art at the Tauranga Gallery or TePuna Quarry sculpture park. Nature enthusiasts will be enchanted by the tranquil Katikati Bird Gardens, where diverse bird species thrive in a serene setting. Alternatively, set sail on a catamaran and venture across the bay to the pest-free oasis of Whale Island. There, you can witness the beauty of the forest and seabirds in their
Wineries
Beaches
Art Galleries
Mt Maunganui
Waterfalls
Drive
Tauranga to Rotorua
Embark on a picturesque rural route that winds its way through rolling hills and lush plantations, guiding you to the tranquil western shores of Lake Rotorua. Along this scenic journey, be sure to make a stop at Hamurana Springs, where you can indulge in a leisurely walk amidst towering redwood trees and beside shimmering, crystal-clear springs. Immerse yourself in the serenity of nature before continuing your drive through the charming suburbs of Rotorua using SH36. Alternatively, opt for a non-stop 80-minute drive via SH 29A, Te Puke Highway, and SH 33. Begin your journey from Tauranga and follow the signage towards Te Puke, bypassing the SH 2 Eastern Toll Road. This captivating drive showcases the picturesque landscapes of Kiwifruit country, offering scenic vistas and the opportunity to visit a working kiwifruit orchard to learn about the fascinating story behind this healthy fruit. As you traverse over the scenic Mamaku Range hills, descend to the picturesque Okere Falls before reaching the captivating shores of Lake Rotorua and the vibrant city itself.
Stay:
Rotorua
In Rotorua, prepare to be mesmerized by the awe-inspiring geothermal wonders, rich Maori arts, and captivating history. Immerse yourself in the vibrant culture with storytelling, cultural performances, and a mouthwatering hangi feast at the Tamaki or Mitai Maori Villages. Alternatively, visit Whakarewarewa to witness geothermal marvels and explore the NZ Maori Arts and Crafts Institute. For those seeking adventure, Rotorua has it all. Experience the thrill of bungy jumping, rolling down hills in Zorb balls, or take a guided tour of the Mt Tarawera crater for an unforgettable experience. Nature enthusiasts can explore the Wai O Tapu thermal valley or wander through the magnificent Redwoods Forest Treewalk, which boasts numerous walking and cycling tracks. Bird watchers will find delight in Wingspan, the national Bird of Prey Center, and the Rainbow Springs Kiwi House. After an exhilarating day, it's time to unwind. Indulge in the soothing mineral spas and experience the relaxation they offer. To satisfy your culinary cravings, head to Eat Street, a lively hub filled with a delightful mix of restaurants, cafes, bars, and make sure to visit the fabulous Lady Jane's Ice Cream Parlour for a sweet treat.
Redwoods Treewalk
Hot Pools
Geothermal Park
Gondola & Luge
Maori Cultural Experiences
Drive:
Rotorua to Gisborne
Lakes, native bush, pine plantations, rolling hills and winding river gorge — this drive has it all. You'll travel on SH 30 through rolling farmland past the Rotorua lakes towards SH 2 at Awakeri. Detour to Whakatane and beautiful Ohope Beach for a swim and snack and to fill the gas tank before continuing on to Opotiki. Wind through the Waioeka Gorge alongside sparkling rivers and over high country farmland. There are plenty of stopping points to admire the breathtaking scenery, and learn the area's fascinating history from the many interpretation boards along the way. Stop for a walk along the historic Tauranga and Manganuku Bridges then continue to Matawai and Otoko, where the Otoko Walkway follows an old railway line. The final 50km (33 miles) open out to orchards and vineyards before entering New Zealand's most eastern city
Stay:
Gisborne
The captivating city of Gisborne, a destination worth journeying to as it is the first city in the world to greet the sun each day. Immerse yourself in the rich cultural offerings of this vibrant city. Embark on the Tupapa Heritage trail, leading you to the historic site where both the Maori ancestral canoes and Captain Cook first arrived in New Zealand. For a breathtaking experience, climb Maunga Hikurangi to witness a stunning sunrise and engage in another immersive Maori cultural encounter. If you've ever dreamed of riding the waves, Gisborne is the perfect place to learn. Take advantage of the surfing lessons available and challenge yourself on the world-class beaches. If bodysurfing is more your style, participate in a hands-on workshop where you can craft your own wooden bodysurfer's hand-plane, adding a personal touch to your aquatic adventures. For a unique and exhilarating experience, embark on a railbike adventure, riding side-by-side along disused railway lines that traverse through tunnels and offer magnificent scenic views. For an extraordinary encounter with nature, join Dive Tatapouri's low-tide reef ecology tour and interact with wild stingrays. This once-in-a-lifetime opportunity allows you to observe these magnificent creatures up close and learn about their natural habitat.
Waterfalls
Sunrises
Beaches
Wineries
Walkways
Drive:
Gisborne to Napier
Drive through hilly farmland and admire inland and coastal views as State Highway 2 winds its way from Gisborne to Napier. Stop halfway at Wairoa to visit the District Museum with its impressive display of local history. Further on, Lake Tutira wildlife refuge is known for its prolific birdlife and a great place to stretch your legs before the final leg into Napier.
Stay:
Napier
Discover Napier, the captivating Art Deco City of New Zealand, which rose from the ashes after a devastating earthquake in 1931. Embracing its unique status, Napier hosts an annual art-deco festival each February, showcasing its architectural beauty. Throughout the year, art tours abound, allowing you to immerse yourself in the city's artistic ambiance. Napier is also renowned as one of New Zealand's sunniest regions, offering beautiful beaches, renowned wineries, and the country's longest-running Farmers Market in nearby Hastings. A visit to Napier wouldn't be complete without exploring its remarkable attractions. The NZ National Aquarium awaits, where you can encounter over 100 native and exotic animals from both land and sea. For nature enthusiasts, an adventure to Cape Kidnappers is a must. Hop aboard a tractor tour to the cape, home to the world's largest mainland gannet colony, and witness nature at its wildest and windiest. If you're drawn to the paranormal, don't miss the opportunity to visit Napier's oldest prison for a spooky and chilling self-guided tour, delving into the eerie tales of its haunted past. Napier combines art, sunshine, natural wonders, and thrilling experiences, offering something for everyone. Immerse yourself in the elegance of Art Deco, bask in the sun-kissed beauty of the region, and indulge in unforgettable encounters with nature and history.
Art Deco
Wineries
Aquarium
Cape Kidnappers
Galleries
Drive:
Napier to Taupo
Turn onto SH5 and head West to Taupo. Here the winding hill road allows for spectacular views, but be prepared for slow traffic as there are few passing lanes. This road is best traveled in daylight, especially in winter. Along the way, are two of the "must-see" NZ waterfalls Waipunga and Waiarua Falls. Approach Taupo in awe at the sight of New Zealand's largest lake.
Stay:
Taupo
Explore the geothermal wonders and water paradise of Lake Taupo, New Zealand's largest freshwater lake. Dive into a multitude of thrilling water activities such as kayaking, parasailing, sailing, and paddleboarding. For a more relaxed experience, embark on a scenic cruise to witness the majestic Maori rock carvings at Mine Bay. Taupo offers a plethora of walking, hiking, and cycling trails suitable for all fitness levels. Traverse through lush forests, climb mountain tops, and immerse yourself in nature's beauty. Don't miss the opportunity to witness the bubbling mud pools and vibrant mineral rocks at the Craters of the Moon and Orakei Korako Valley. Be captivated by the spectacular displays of water at Huka Falls and Aratiatia Rapids. Observe the powerful release of water or, for an adrenaline rush, partake in thrilling river rafting or jet boating adventures. To unwind, indulge in the mineral-rich waters of the Otumuheke Stream or take a refreshing swim at the DeBretts pool complex. Let the soothing properties of the mineral waters relax your body and rejuvenate your spirit. Lake Taupo offers a paradise of geothermal wonders, thrilling adventures, and tranquil relaxation. Whether you're seeking adrenaline-pumping activities or a peaceful soak in natural waters, Taupo promises a memorable experience amidst its stunning natural landscapes.
Huka Falls
Lake Taupo
Bungy Jumping
Tongariro National Park
Maori Carvings
Drive:
Taupo to Auckland
Drive through the heart of New Zealand's timber country towards Putaruru, where you can stretch your legs on the Te Waihou Walkway or visit the Timber Museum and wander around the town's decorative Water Park. Alternatively, stop a little further on at Cambridge, NZ's equine capital. Take a tour through working racing stables or visit nearby Lake Karapiro to try its many water activities or get an adrenalin rush with a thrilling Camjet tour to the base of the Karapiro Dam. After Cambridge, it's a straight but busy drive on SH 1 through Huntly and on to Auckland.
The
Simple

way to

book

new zealand