Travel Package Ideas
All itineraries here are suggestions to give you an idea of what New Zealand has to offer. They are fully customizable and prices will vary depending on your level of comfort. Our travel advisors are flexible and will design your trip to suit your individual budget and desires.
All prices are in USD. Per couple, and includes accommodation, rental cars, airport transfers, and some activities.
Southern Explorer
12+ Days
Highlights:
Glaciers
Milford Sound
National Parks
Mt Cook
Adrenlaline Options
Includes:
Accommodation
Rental Car
Airport Transfers
Selected Activities
This itinerary showcases how diverse New Zealand's landscape is. Travel across vast plains, through mountain passes, along golden beaches, amongst glaciers, beside winding rivers . . . With ample opportunity to taste some of New Zealand's best Wine, seafood, and fresh fruit along the way. Each day is different, so have your camera at the ready with a full battery and empty memory card. This itinerary showcases how diverse New Zealand's landscape is. Travel across vast plains, through mountain passes, along golden beaches, amongst glaciers, beside winding rivers . . . With ample opportunity to taste some of New Zealand's best Wine, seafood, and fresh fruit along the way. Each day is different, so have your camera at the ready with a full battery and empty memory card.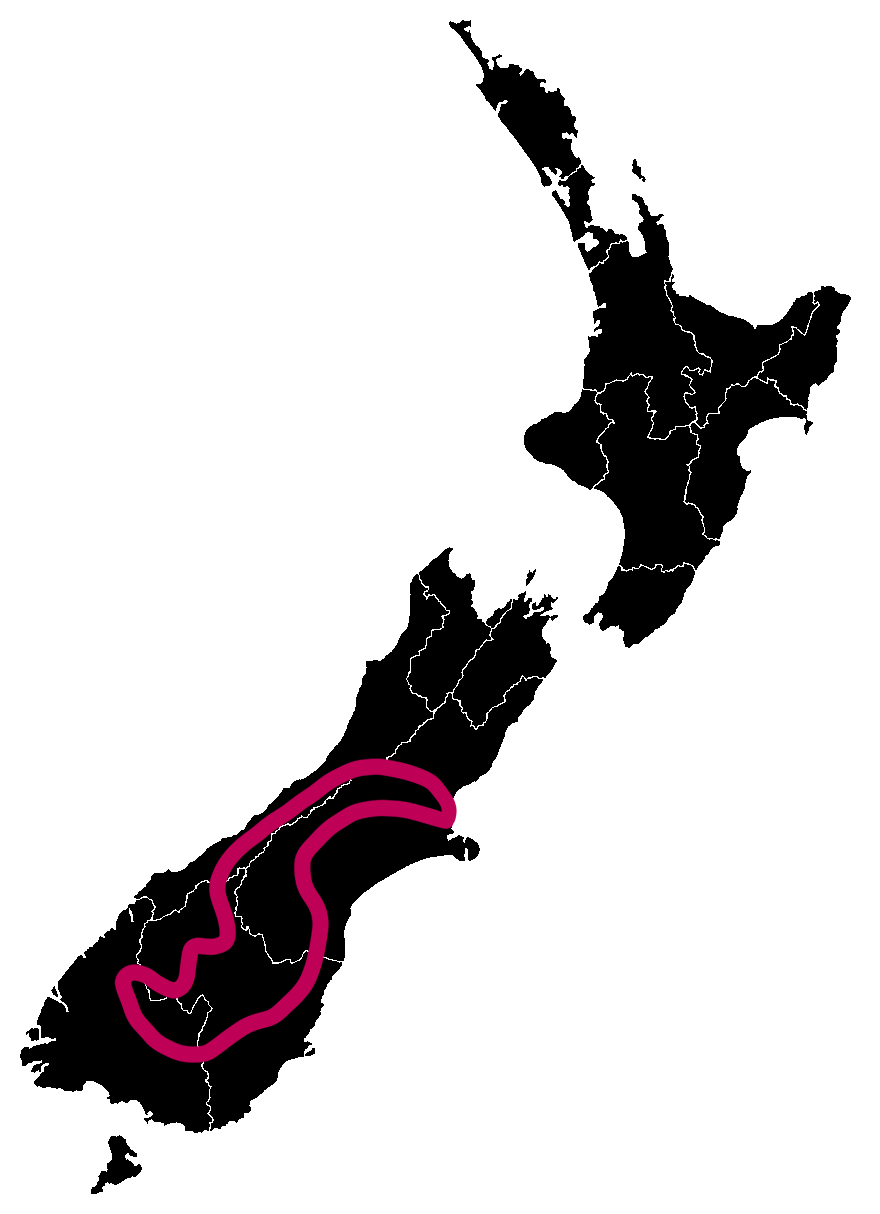 Start:
Christchurch
Known in New Zealand as the 'Garden City', Christchurch is our second-largest city in the heart of the Canterbury Region. Wander the tree-lined streets, exploring Culture, Art, and Innovation along the way. A thriving city with a unique energy that provides something for every visitor. Boasting an impressive list of outdoor activities right on its doorstep. Go hiking around the trails of Banks Peninsula for a breathtaking view west over the plains towards New Zealand's South Alps. Get the blood pumping at Christchurch Adventure park with ziplining and mountain biking for all ages. Take an evening Gondola along the Avon river, then browse the local art galleries before sampling fine cuisine in the revitalized city centre. We recommend the world-famous Canterbury lamb. A great day trip or one-night getaway is a visit to nearby Akaroa, this cute seaside historical French Settlement
International Antarctic Centre
Botanic Gardens
Punting on the Avon
Street Art
Port Hills Hiking
Drive:
Christchurch to Hokitika
Travel east to west through the patchwork fields of the Canterbury plains; this drive takes you from one coast to the other. This 4-hour drive will take most of the day; soon after leaving the city, you will find out why. The contrast of the two sides of the island is nothing short of outstanding, with plenty of photo and hiking opportunities along the way. But before you get there, you will cross through New Zealand's Southern Alps. Begin by winding your way through rolling hills that quickly rise higher and higher from the valley floor. Castle Hill will provide you with some unusual rock formations; take the chance to wander around and explore this unique landscape. Not far down the road, you will arrive at Arthurs Pass, a small town sitting in its own National Park, dwarfed by the surrounding peaks and cliffs. This is an excellent place for a cup of coffee or snack before stretching your legs on one of the local hikes. As you cross the Southern Alps, you will notice the quick change in flora and fauna as you drop down into the rainforest of New Zealand's Wild West Coast. Eventually hitting the Tasman Sea and turning for Hokitika.
Stay:
Hokitika
Sitting on the wild shores of the Tasman Sea is Hokitika, a cool little seaside town in the heart of the West Coast. Something genuinely novel about Hokitika is being able to walk around and observe Artists at work. Gaze in awe as woodturners, potters, jewelers create their unique products. Call into the Hokitika Glass Blowing studio to view sculptors form colorful bowls, birds, fruit and anything else imaginable out of molten glass. A short drive out of town is the Hokitika Gorge with its bright blue glacial water. Be sure to call into the Tree Tops Walk to give you a birds view of the rainforest as you stroll in and above the forest canopy. Evening activities often include a bonfire on the beach or a visit to the Glow Worm caves.
Hokitika Gorge
Glass Blowing
Local Art Galleries
Jewllery
Treetop Walk
Drive
Hokitika to Franz Josef
Rated to be one of the top Coastal Drives in the World, the Great Coast road winds its way through untouched rainforest and into the heart of South Westland. Take advantage of the opportunity whenever the forest opens itself, presenting deep valleys leading up to the snow-capped peaks. One such place is after crossing the turquoise waters of the glacial-fed Whataroa River, check out the remnants of the old bridge and chat with the locals about what's happening in the area. This is the start of Glacier Country, a highlight on many travelers New Zealand Bucket list. On arrival at Franz Josef, you can take your pick of any adventure activity on offer. Sit back and relax with a drink in hand at the Landing Restaurant to take in the buzz of this small but vibrant tourist town.
Stay:
Franz Josef
Welcome to Glacier Country. Franz Josef is a small town with a huge amount on offer. Perched amongst a temperate rainforest, this is the perfect base to explore Westland Tai Poutini National Park and the Glaciers within it. Take a scenic helicopter flight around the peaks and land in the snowfields, or hike around the crevasses and caves on the lower glacier. Paddle a kayak on Lake Mapourika and take in the views of the snow-capped mountains that rise above. For the truly adventurous, take a leap on New Zealand's Highest Skydive, jumping out at a ridiculous 20,000ft. There is plenty of hiking trails leading out of town; our favorites include the Tartare Tunnels, Roberts Point and Alex Knob tracks.
Glaciers
Kayaking
Health Spa
Scenic Helicopter Flights
Hiking
Drive:
Franz Josef to Wanaka
Continuing south down the remainder of the Great Coast road, there are plenty of remarkable places to stop along the way. First is Lake Matheson, a 5 min drive from Fox Glacier township. Noted as one of the most photographed lakes in the World, you have more than likely seen it on any New Zealand brochure. This lake will provide a mirrorlike effect of Aoraki Mt Cook, New Zealand's highest peak on a calm day. Not long before you get to Knights Point lookout, stop for morning tea at the South Westland Salmon Farm for an authentic taste of the West coast. Your halfway point is Haast, the last township you will pass as you turn inland. Follow the river to leave the West Coast by crossing back over the Southern Alps towards Wanaka. Must-do walks (or swim if you're game enough) on this section are the Blue Pools and Fantail Falls short hikes. The head of Lake Wanaka will be a stunning sight as you wind your way around its edge, then jump over the saddle to take in the view of Lake Hawea.
Stay:
Wanaka
Situated on the shores of a pristine alpine lake, the setting surrounding this place is nothing short of spectacular. There is always a buzz about Wanaka, with sports, art, and music events all year round. If you're an outdoor enthusiast, then you are in good company. You will find easy access to the great outdoors, with everything from climbing, skiing, mountain biking, kayaking, canyoning, the list goes on. Stretch your brain at Puzzling World, take on the Maze and check out the mind-bending exhibits. Moviegoers can watch the latest flicks from the backseat of a Morris minor and enjoy tasty homemade ice cream, pizza and cookies during the intermission.
Adventure
Hiking
Mt Roy
Kayaking
Aspiring NP
Drive:
Wanaka to Queenstown
This doesn't often happen in New Zealand, but here you are faced with two route options. The first being a drive up the Cadrona Valley - Passing Ski fields and a Whiskey Distillery. This will take you to the viewpoint on the Crown Range, gazing down into Queenstown and its surroundings for a magnificent view. The second is to take the slightly longer way around the mountains, passing the world-class vineyards and tasty orchards of Central Otago. Because both options are extraordinary, we can't make this decision for you. Weigh up between Pinot Noir, fresh apples, apricots, and cherries with Whisky and elevated vistas.
Stay:
Queenstown
Often considered the number one destination for adventure seekers worldwide, Queenstown is the Bucket List destination of many. This exciting lakeside town offers any activity you could imagine, and some you couldn't. But it's not all bungee jumping and jet boat rides; it also presents an array of more comfortable and luxurious options for those who enjoy the finer points of life. Framed by the dramatic peaks of the aptly named Remarkable Mountains, hiking, skiing, and biking are all right out your front door. There are plenty of fine dining options to savour after a day of shopping; sit back and watch the bustle of the promenade as busker tunes fill the fresh alpine air. Queenstown is the ideal base to explore the surrounding areas; take a scenic plane or helicopter through the mountains over to Milford Sound. Witness this natural wonder from above before hopping on a guided cruise or kayak.
Bungy
Mountain views
Jet Boating
Hiking
Scenic Flights
Drive:
Queenstown to Lake Tekapo
Make your way west along the banks of the Kawarau river; prior to entering the gorge, you will pass the vineyards of Gibbston Valley. Upon exiting the gorge, you will stumble into pip fruit country at Cromwell, be sure to stop at the roadside stalls to stock up on fresh fruit before turning north alongside Lake Dunstan. Then weave your way through the timeless land of the Lindis. Before you know it, the hills will open to the vast glacial outwash plain of the Mackenzie Basin. This basin is home to the spectacular turquoise lakes; Pukaki and Tekapo. Fed by hundreds of glaciers high up in the alps, these lakes were formed by retreating glaciers thousands of years ago. For a postcard-worthy snap, pull over at the southern end of Lake Pukaki for an awe-inspiring view of Aoraki/Mt Cook.
Stay:
Lake Tekapo
At the southern edge of a bright blue glacial-fed lake is the picturesque town of Lake Tekapo. Sitting in the vast Mackenzie basin, explore the surrounding lakes and canals, feed the salmon at the Aoraki Salmon farm, hike/bike the many trails or just take in the immense landscape. Tekapo also prides itself on its big sky and bright stars. This small town is a UNESCO Dark Sky Reserve, so be sure to take a stargazing tour and learn all about our southern stars. The local Hot Pools and Spa with lake and mountain views is a great way to unwind at the end of the day.
Stargazing
Hiking
Glacier Flights
Lake Views
Salmon Farm
Drive:
Lake Tekapo to Christchurch
Today you will journey north to Christchurch, stopping at several country towns along the way. By now, you would have seen and heard about New Zealand pies, so if you haven't yet tried one, then the Fairlie Bakehouse offers the perfect opportunity to try this kiwi favourite. If delicious jams and chutneys are more your thing, then Barkers of Geraldine will provide plenty of samples before choosing a gift pack to take home. At this point, it is recommended to ignore Google maps and take the inland scenic route, tracing the foothills to the resort town of Methven. From here, it's a straight drive to the Garden City, officially known as Christchurch.
The
Simple

way to

book

new zealand