Travel Package Ideas
All itineraries here are suggestions to give you an idea of what New Zealand has to offer. They are fully customizable and prices will vary depending on your level of comfort. Our travel advisors are flexible and will design your trip to suit your individual budget and desires.
All prices are in USD. Per couple, and includes accommodation, rental cars, airport transfers, and some activities.
Central North Island
6+ Days
Highlights:
Natural Hot Pools
Maori & Polynesian Heritage
Museums
Thrilling Adventures
Forest Hikes
Includes:
Accommodation
Rental Car
Airport Transfers
Selected Activities
An incredible journey through New Zealand's North Island, immersing yourself in the vibrant cities of Auckland, Rotorua, and Taupo. This trip combines cultural experiences, natural wonders, and thrilling adventures, offering an unforgettable taste of the diverse landscapes and rich heritage of the region. Begin your adventure in Auckland, the cosmopolitan "City of Sails." Explore the bustling waterfront, visit the iconic Sky Tower for panoramic city views, and immerse yourself in the rich Maori and Polynesian heritage at the Auckland War Memorial Museum. Indulge in delectable cuisine at the trendy Viaduct Basin or take a leisurely stroll through the beautiful Auckland Domain park. Continue to Rotorua, a geothermal wonderland steeped in Maori traditions. Witness the breathtaking geysers and steaming hot springs at Te Puia, experience captivating Maori cultural performances, and indulge in a traditional Hangi feast. Thrill-seekers can partake in adrenaline-pumping activities like ziplining, luging, or whitewater rafting. Next, venture to Taupo, home to the stunning Lake Taupo, the largest freshwater lake in Australasia. Explore the picturesque lake with a boat cruise or skydive over its crystal-clear waters. Unwind in natural hot pools, marvel at the majestic Huka Falls, and experience the tranquil beauty of the surrounding landscape. Throughout this trip, you'll encounter the perfect blend of urban delights, geothermal marvels, and serene natural beauty. Immerse yourself in Maori culture, witness breathtaking landscapes, and engage in thrilling adventures. From the vibrant cityscape of Auckland to the geothermal wonders of Rotorua and the tranquility of Taupo, this itinerary promises a truly unforgettable exploration of the North Island of New Zealand.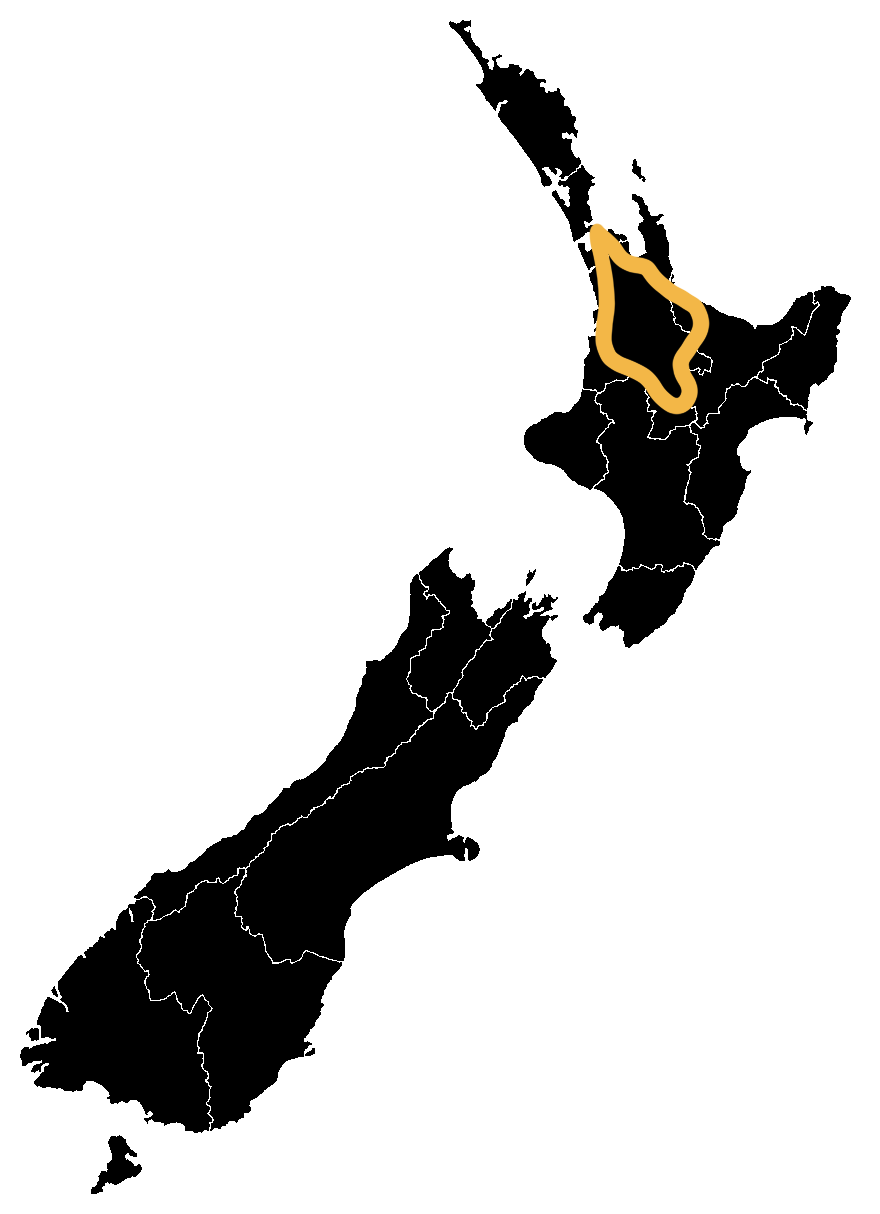 Start:
Auckland
Discover the wonders of Auckland, New Zealand's largest city, renowned as the "City of Sails." Situated between two iconic harbors, this vibrant metropolis offers a plethora of captivating activities for all types of travelers. Embark on exciting island adventures to Waiheke Island, known for its laid-back charm, Rangitoto Island, a majestic volcanic destination, or the Tiritiri Matangi sanctuary, a haven for native wildlife. Immerse yourself in the underwater world at Kelly Tarlton's Aquarium or explore the diverse animal kingdom at the Auckland Zoo. Uncover the rich world of art and culture at the Toi o Tamaki art gallery or immerse yourself in the city's vibrant museum scene. Thrill-seekers can experience the adrenaline rush of bungy jumping off the harbor bridge or the iconic Sky Tower, where panoramic views and a captivating glass viewing platform await. Engage in the interactive All Black Experience to learn about New Zealand's renowned rugby team. Take a leisurely stroll along the picturesque Viaduct Basin waterfront, adorned with trendy bars and restaurants, offering a perfect ambiance for a relaxing evening. Families can delight in the fun-filled attractions at Rainbow's End amusement park or venture into the scenic Waitakere Ranges for outdoor adventures. For a tranquil escape, explore the serene Botanic Gardens, surrounded by natural beauty. Auckland presents a vibrant blend of island adventures, cultural treasures, and breathtaking scenery, ensuring an unforgettable experience for all who visit.
Waiheke Island Wineries
Harbor Bridge Walk
Sailing
Piha Beach
Museums
Drive:
Auckland to Rotorua
State Highway 1 takes you through Hamilton and Tirau to Rotorua. Stop off in Hamilton for food, shopping and a trip to the largest Zoo in NZ. Continue to Tirau for the Oxford cafe's legendary sausage rolls and a visit to the sheepdog center. However, the locals say that their route is slightly faster and definitely more scenic. Travel on SH 2 to visit two stunning waterfalls at Hunua and Wairere. Continue through farmland and forest along SH 2 and 27 to Matamata. There, you can stretch your legs with a stroll around the Lord of the Rings' most picturesque village at Hobbiton. Continuing on, make sure you stop at the Blue Springs in Putaruru. Over 60% of New Zealand's bottled water comes from this beautiful stream which might rate as one of NZ's best-kept secret scenic spots.
Stay:
Rotorua
Rotorua is home to spectacular geothermal wonderlands and Maori arts, culture and history. You can experience storytelling, cultural performances and delicious hangi (traditionally cooked meat and vegetables) at the Tamaki or Mitai Maori Villages. Or opt for Whakarewarewa to see geothermal marvels and the NZ Maori Arts and Crafts Institute. Further afield lie the Wai O Tapu thermal valley and the Redwoods Forest Treewalk with its many walking and cycling tracks. Bird watchers will love Wingspan, the national Bird of Prey Center and the Rainbow Springs Kiwi House. Daring adventurers rejoice! Rotorua's got everything from bungy jumping and rolling Zorb balls to a guided tour of the Mt Tarawera crater. Finally ready to relax? Take a dip in one of the hot mineral spas before heading out to Eat Street with its mix of restaurants, cafes, bars and the fabulous Lady Jane's Ice Cream Parlour.
Redwoods Treewalk
Hot pools
Geothermal Park
Gondola & Luge
Maori Cultural Visits
Drive
Rotorua to Taupo
Traveling through a region that sits on the Pacific Ring of Fire means you'll pass volcanic scenery and geothermal wonders on your journey. Along the way, stop in at Wai-o-tapu, where the Lady Knox Geyser erupts faithfully at 10.15 each day. Continue south through vast pine plantations and find the Orakei Korako Thermal Valley, with its colorful terraces and the largest geyser field in New Zealand. Closer to Taupo, you'll pass the steaming chimneys of the Wairakei Geothermal Power Station. You can learn all about the process at the nearby visitors' center. A must for golfers is a stop-off at the Wairakei Golf and Sanctuary, a world-class golf course inside a predator-free conservation park.
Stay:
Taupo
Another geothermal and water paradise awaits visitors to Lake Taupo, New Zealand's largest freshwater lake. Here you can kayak, parasail, sail, paddleboard and more. Or let someone else do the work and take a scenic cruise to see the gigantic Maori rock carvings at Mine Bay. Taupo has myriad walking, hiking and cycle trails for all fitness levels. Head through forests and along mountain tops. Then walk past the bubbling, boiling mud and colorful mineral rocks at Craters of the Moon and Orakei Korako Valley. Locals will recommend you watch the spectacular release of water at Huka Falls and Aratiatia Rapids or get amongst it with the various river rafting and jet boating adventures on offer. Finally, relax and enjoy soaking in the mineral waters of the Otumuheke Stream or swim at the DeBretts pool complex.
Tongariro National Park
Bungy Jumping
Māori Carvings
Huka Falls
Lake Taupo
Drive:
Taupo to Auckland
Drive through the heart of New Zealand's timber country towards Putaruru, where you can stretch your legs on the Te Waihou Walkway or visit the Timber Museum and wander around the town's decorative Water Park. Alternatively, stop a little further on at Cambridge, NZ's equine capital. Take a tour through working racing stables or visit nearby Lake Karapiro to try its many water activities or get an adrenalin rush with a thrilling Camjet tour to the base of the Karapiro Dam. After Cambridge, it's a straight but busy drive on SH 1 through Huntly and on to Auckland.
The
Simple

way to

book

new zealand