Wildlife of New Zealand
Penguins have got to be some of the coolest birds around, and without a doubt, they're one of the most popular birds in the world. Who hasn't cooed at the sight of a penguin chick snuggling on its father's feet in the snow? Or smiled at a penguin's comical waddle across the ice, only to marvel at the transformation into a streamlined ballerina once they hit the water? Now, if you're shivering at the thought of all that ice and snow, take heart because New Zealand is the Penguin Capital of the World. What's more, you won't have to go near an iceberg to see penguins in our neck of the woods.
"Kiwi" Penguin Stats
Penguins are flightless aquatic sea birds that live almost exclusively in the southern hemisphere. Many live in Antarctica, but New Zealand has 13 of the world's 18 species living and breeding around the South Island coast and offshore islands. If you're a penguin devotee, you'll be even more delighted to know that three rare native species breed on the New Zealand mainland — and you can see them all.
Where you'll find New Zealand's Native Penquins-
Korora / Little Blue Penguin
As the name suggests, the little blue penguin is tiny. It stands just 13 inches (35cm) tall and weighs about 2 pounds (1 kg.) This shy creature swims in the coastal waters around the South Island, spending all day at sea and coming ashore to roost unde r the cover of darkness. One convenient spot to see Little Blue Penguins is at the Blue Penguin Colony in Oamaru. Here you can sit comfortably in a covered pavilion to watch their nightly pilgrimage up the beach and through specially constructed tunnels to their nests. As with many of the New Zealand mainland colonies, this is a conservation site. Staff in Oamaru actively trap predators near the purpose-built nesting boxes and monitor the health of each penguin. Another conservation site is Blue Penguins Pukekura at Taiaroa Heads on the Otago Peninsula, about an hour's drive from Dunedin. Instead of driving there just before sunset, why not make it an afternoon adventure? First, call in at the stunning Glenfalloch woodland garden. Then, carry on to visit the Royal Albatross Colony and the well-preserved tunnels of historic Fort Taiaroa. Finally, take the evening journey to hidden viewing platforms to see the birds congregate in "rafts" offshore before they surf ashore.
Hoiho / Yellow-eyed Penguin
The elegant yellow-eyed hoiho is the world's rarest penguin — with a population of 4000 birds. However, if the korora is tiny, the hoiho is the opposite. It is one of New Zealand's largest species, standing nearly 30 inches (75 cm) tall. One of the best places to see this New Zealand native is Penguin Place Dunedin, a private conservation reserve dedicated to protecting the endangered penguin. Your guide will take you through a system of covered trenches and into specially designed viewing hides. These allow a fantastic close-up view of the yellow-eyed penguin's breeding grounds. Over the years, a tremendous amount of work has been put into providing nesting sites and shelter for Yellow-eyed penguins. Much of it is funded by these tours. So it's good to know that you can see penguins and do your bit for conservation at the same time.
Tawaki / Fiordland Crested Penguin
The Fiordland crested penguin stands out from the crowd with its spiky yellow top knots. This 23 inch (60cm) native penguin frequents southern coastal waters in Otago, Southland, Fiordland and the West Coast. You may spot it on a beach in the Catlins (best accessed along the Southern Scenic Route.) Or take a cruise on Milford or Doubtful Sound with Southern Discoveries and Real Journeys to see penguins sunning themselves on the rocks. One of the best places to see a Fiordland Crested Penguin is Wilderness Lodge at Lake Moeraki between Wanaka and the glaciers on New Zealand's wild west coast. Here, your group tiptoes through the towering rainforest and right out onto the beach to see the tawaki come ashore. Once again, this sanctuary is doing all it can to protect its breeding population, including maintaining a dog-free beach and trapping for predators.
Can't make it into the wilderness? Our cities have your back!
Not all of us have the itinerary or the inclination to visit penguins in the wild. So if you'd prefer to see your penguins in a city setting, Auckland and Christchurch are the places to go.
Kelly Tarlton's Sea Life Aquarium cares for two stunning groups of King and Gentoo penguins from Antarctica. See them any time through the viewing windows or head along to "Feeding Time" to listen to an informative talk while watching the keeper feed the dipping, diving birds. But, if you want to get up close and personal with a penguin, book a Penguin Passport. This 60-minute experience takes you behind the scenes to see how staff care for the penguins and out into the icy enclosure to see them for yourself — and, of course, capture a precious photo of the moment.
In Christchurch, the International Antarctic Centre also offers a chilly on-the-ice Antarctic experience. In one exhibit, visitors rug up in protective gear to experience the force of an Antarctic gale. If you're not quite up to that, you can accept the challenge to see how long you'd survive the cold by dipping your hand into a frigid "hole in the ice."
Of course, it's penguins you've come to see, so head along to the indoor/outdoor penguin viewing area to see up to 26 rescued little blue penguins. Most of these birds have been found injured in the wild and nursed back to health in Christchurch. There are also two daily feeding times and a VIP backstage pass for a more exclusive experience.
So, come on over, penguin lovers, and delight in watching these rare and beautiful birds. Whether you'd want a wilderness experience or to view them in comfort, there's a penguin place for you in New Zealand.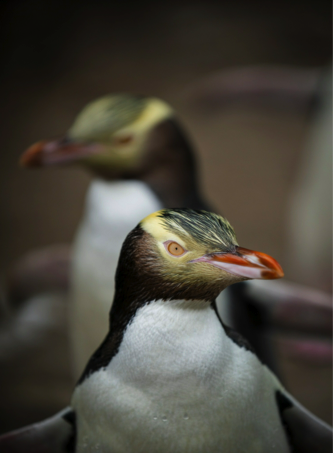 Creating Unforgottable Experiences to the destination of your dreams